WebsiteBuilder: Text Editing Toolbar
The text editing toolbar offers a standardized editing experience for all elements. Highlights and examples are shown below.

NOTE:
We offer two different versions of WebsiteBuilder. Our original implementation of the builder is the Legacy WebsiteBuilder Editor, while WebsiteBuilder Express Editor is the newest interface commonly found in the Foundation dashboard. It is not possible to upgrade a Legacy WebsiteBuilder site to the Express Editor. The site will need to be recreated with the Express Editor. All new WebsiteBuilder installations will be the Express Editor.
In this article, we have provided two sets of instructions for each editor. Follow the instruction set that matches your WebsiteBuilder version.
How to check if I have Legacy WebsiteBuilder Editor or Express Editor?
| | |
| --- | --- |
| Legacy WebsiteBuilder | WebsiteBuilder Express Editor |
| | |
How To's:
How to launch WebsiteBuilder
Log in to your Domains Dashboard.

On the dashboard, select the domain you wish to update the A records.
There are two views in the Domains dashboard - the Card and List views. Click on the view icons to switch to your preferred view.

Choose the domain you wish to modify.

In the

Card view

, click the domain's

Manage

button.

In List view, click the domain or its gear icon on the right-hand side.

On the left pane, click WebsiteBuilder, under Site Builders.

Click Manage / Manage Site. This action will open your WebsiteBuilder screen in a new tab.

| | |
| --- | --- |
| Legacy WebsiteBuilder | WebsiteBuilder Express Editor |
| | |
Legacy WebsiteBuilder Editor: Text Editing Toolbar


Text Style and Font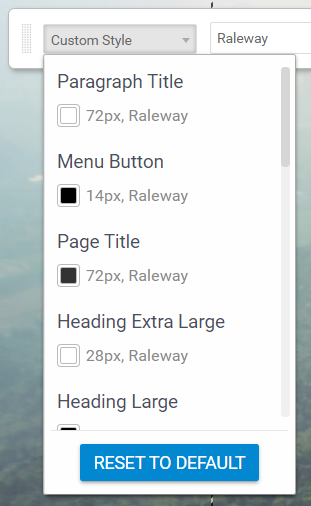 Text Justification


Text Formatting

Text Animations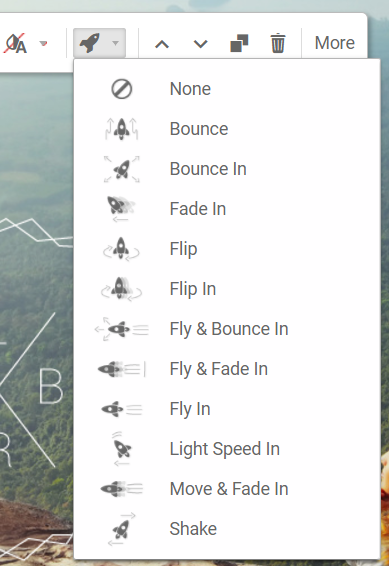 Text Management
-Send Backward and Bring Forward buttons next to Duplicate and Delete. Clicking on More at the right side of the toolbar will open up more options.


More Options


Spacing & Height

Bullets
- Subscript/superscript and bullets are on the 2nd row.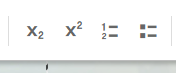 Border Options
- These are new to the toolbar.

Box Color
Border Color
Border Width
Border Radius

Other Formatting
- These are new options.

Background Image
Text Padding
Docking options

Drop Shadow & Glow
- These are new to the toolbar.

The Clear Formatting button will remove any selected format that has been applied to the selected object.
WebsiteBuilder Express Editor: Text Editing Toolbar

Text Formatting

Link and Unlink option

Text Font Size and Color