WebsiteBuilder: Search Engine Optimization
Now that your site is published and ready for visitors, how do you ensure it will be found and listed with the search engines? This article provides some basic tips on improving their search engine rankings and increasing visitor traffic to their site through on-site optimization. Please call iPage if you are interested in our professional SEO services.
Why is my site is not showing up on Google?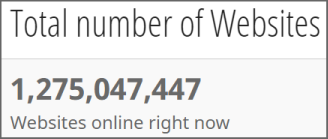 As of October 2017, there are over 1 billion websites on the world wide web today!
With millions of website pages being created each week, it should be no surprise that your new website may not be showing up in a Google search. Here are some basic tips that can help prospective customers and visitors find your site.
Content is King: Ensure that the content on your website is relevant to your product, service, or topic. Creating 300 - 500 words per page will assist the search engines as they index your site. If you are a plumber, make sure your site contains detailed descriptions of your services and the area you serve. Maps, addresses, and contact phone numbers cannot be overlooked. Pictures of you or your dog are not important to your customers. Stick to the relevant facts.
Title Tag: The title tag describes the online content for your page. Typically this should be under 60 characters, and the most important keyword should be at the start of your Title tag. Example: Plumber Dallas Texas | Drain Cleaning | The Speedy Plumber
Meta Description:  This should be under 160 characters and accurately describe your product, services, or topical content. Do not stuff your description with keywords only but well-planned sentences or phrases that describe your site. Example: The Speedy Plumber provides the fastest, low-cost plumbing services to the Dallas area. Our technicians are trained and certified. Drain cleaning and repairs.
Adding a Title Tag and Meta Description
Log in to your Domains Dashboard.

There are two views in the Domains dashboard - the Card and List views. Click on the view icons to switch to your preferred view. 

Choose the domain you wish to modify.  

In the

Card view

, click the domain's

Manage

button.

In List view, click the domain or its gear icon on the right-hand side.

On the left pane, click on WebsiteBuilder, under Site Builders.

Under Settings, click Manage Site. This action will open your WebsiteBuilder screen on a new tab.

Click on Pages in the left sidebar.
Next, click on the three-dot menu.

 

Enter the values in the popup box and then click on Apply.
Adding Google Analytics code to your site
Google Analytics will help you understand who your visitors are, where they come from, how long they stay on your site, and many other valuable tips to succeed in your site. Sign up for a free Google Analytics account to get started. Google will provide you with a line of code that you will need to add to your website. Follow the instructions below to copy and paste the code into the Stat's page.
Inside WebsiteBuilder, click on Settings in the left sidebar.
Go to Tracking & Analytics.
Paste your Google Analytics code in the box.
Click Apply.


Note: There is a 24 to 48-hour delay between when you add the code to your site and when the stats will become available in Google Analytics.