Virtual Private Server (VPS)
What is VPS?
Our Virtual Private Server (VPS) offering is built on Openstack/KVM technology, one of the fastest-growing virtualization platforms in the market today. We use very high-performance servers with high-speed SAN storage in a state of the art datacenter which is reliable and affordable. The performance will amaze you.
How do I manage my VPS?
We have combined the benefits of the industry-leading cPanel Control Panel and our finely tuned Domains Dashboard to give you access to all the tools you need for managing your server with ease. Some accounts are still in the Control Panel view.

Here are the steps to access your cPanel in Domains Dashboard:
Log in to your Domains Dashboard.

Go to the Hosting Tools by clicking on the tiles icon at the top right corner of the screen.

Go to the Server Control Center.

From the Server Control Center page, click on the Launch cPanel link.

Log in with your cPanel username and password.
Back to top.
Here are the steps to access your cPanel in Control Panel:
Log in to your Control Panel.
Go to the Server Control Center.

From the Server Control Center page, click on the Launch cPanel link.

Log in with your cPanel username and password.
Back to top
.
Want more administrative access to the server?
In addition to the cPanel interface, we have the Server Control Center. It provides information about your server, such as the primary IP, server configuration, etc. It also allows you to start, stop, reboot, change the root password, and set the hostname for your virtual server. With the available Java SSH Terminal, you can manage your server through command line access as well.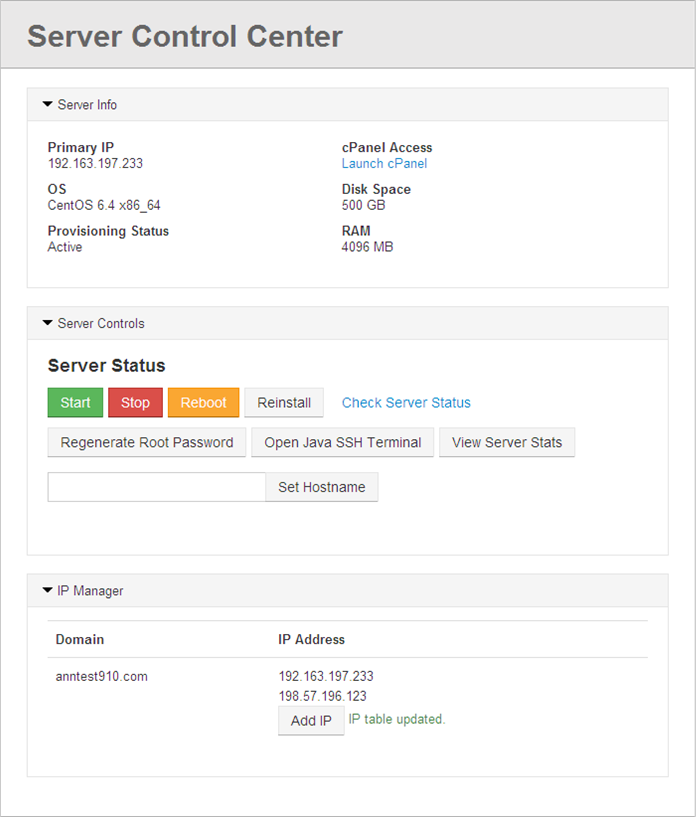 Back to top
.
Frequently Asked Questions (FAQs)
What do I get with my VPS account?
With the new VPS offering, you get the benefit of the guaranteed computer resources that come with the KVM technology. Each VPS has its own CentOS installation with the cPanel User Interface for managing your server effectively. It also allows you to install applications that work for you on your dedicated OS instance.
How do I get root access on the server?
All VPS Servers have optional root access that will be available to you simply by clicking on the Generate Root password button on the Server Control Center page. However, if you do request root access, please keep in mind this may limit our ability to support your server in the future. We will always be willing to restore your server to a previously backed up image, but any additional diagnostic efforts on servers that may have configuration errors will incur an additional fee.

Why can't I see my Server Control Center?
Server Control Center is only available to those who availed of our VPS plan. If you are still using a shared hosting plan, therefore, you won't be able to see the server control center on your dashboard and access your cPanel.
What type of support is included with the VPS offers?
All of our VPS servers come with basic support from our expert team. The items covered by this support include:
Root password resets
Billing and Account Management
Reverse DNS assignment
Monitoring of the physical server including -

Power
Ping
Hardware
Server Uptime
Hardware/Network Performance (excludes application performance)

Configuration changes that must be set outside of your server, like hostname and resolver configuration
Automated cPanel/CentOS/Service patching
Access problems such as inability to login via SSH - we will troubleshoot until we are able to login
Reload of OS image from most recent backup (please note this will overwrite existing server)
What if I don't want to use the cPanel Control Panel?
The cPanel Control Panel is bundled into the offering in order to provide a more user-friendly interface for managing your server. While you always have the option to remove it, it will not reduce the price of the server and may cause issues down the line when we try to deploy patches to the server image.
Can I have multiple servers within a single account?
At this time, we are only able to support one server per account. We would be happy to create a new account for you if you would like additional servers.
How do I cancel my server?
We would be sad to see you leave, but please call support and request a cancellation if you would like to cancel your server. You can cancel within the first 30 days without any penalty, but if you have signed up for a 12 or 24-month plan, early termination fees will apply if you cancel beyond the first 30 days.
Back to top
.