Site Expresso: How to Edit Social Links
Walkthrough
1. From any page, mouse over the following link areas of the page. Click Edit Follow Links.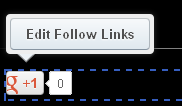 2. To edit, Click Edit for the social link you'd like to change. Click to OK to Save your change.
3. To remove a social link, click Remove for the profile you'd like to remove. Click OK to save your change.