Site Expresso: How to Add Sound
Step by Step Walkthrough
1. Edit your text.
2. Highlight the text you added.
3. Click the link icon.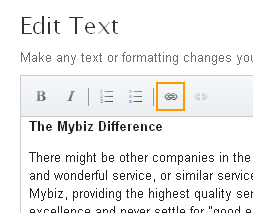 4. In the 'Link Type' box, select URL.
5. In the 'Protocol' box, select HTTP.
6. In the 'URL' box, enter the internet link to the sound file.
7. Click the 'Target' tab.
8. Click the 'New Window'.