Site Expresso: How to Add Links
Step by Step Walkthrough
1. Edit your text.
2. Add text to encourage visitors to click on the link (example: Watch our video or go to website name).
3. Highlight the text you added.
4. Click the link icon.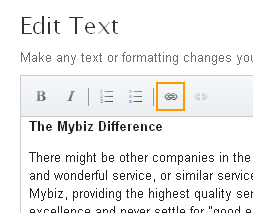 5. In the Link Type box, select the type of URL.
6. In the Protocol box, select HTTP.
7. In the URL box, enter the internet link.
8. Click the Target tab.
9. Click New Window.