Site Expresso: How to Add an Image Gallery
Step by Step Walkthrough
1. Click the arrow next to Pages.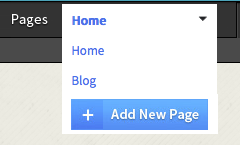 2. Click Add New Page.
3. Click Image Gallery.
4. To add your images to your gallery, double-click in the image gallery area.
5. Click Add image under the left column.
6. Click Find to search for the image you want to add.
7. Type a short description of the image.
Note: It's important to add a good description for each image for Search Engine Optimization purposes.
8. Continue adding images until you've finished.
9. Click Use this list to create your gallery.