Marketing: Social Lift
Grow and Connect With Your Audience

Social media platforms have quickly become one of the best ways to grow and engage with your customers. Your next customers might not come from Google searches but from Social Media. You can gain exposure with this valuable audience by connecting with them on Facebook and Google +.
Two-Prong Approach - Grow and Engage
To start things off, we typically focus on audience growth. If your social presence is very low, we'll place near 100% of our focus for the first month on growing your audience. Over time we will move one-third of our focus to engage the existing audience. Ultimately, we will maintain a blend of both growing and engaging month-over-month to keep growing your reach while also engaging your new followers.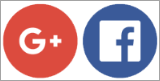 How Can Social Lift Help You
OPPORTUNITIES
DESCRIPTION
HOW YOU CAN HELP
SIGNS OF SUCCESS
Page Growth
Grow page "likes" as the foundation for a solid social media presence.

Tell everyone you know to "like" the page
Be patient! Results can take time.

Increase in page likes. Exact numbers can vary based on the size of your target market.
Website Traffic
Direct potential customers to your website.

Share website tracking data with your team
Ask customers if they've seen the business on Social Media

Clicks to website. Can be tracked via FB ad analytics and/or customer website analytics.
Brand Awareness
Introduce as many potential customers as possible to your business.
Ask customers if they've seen the business on Social Media?
Post and ad impressions/reach show how many people have been introduced to your brand.
Increase Credibility
Prove that you are the foremost expert in your field.
Supply team with current, interesting, and informative information.
Organic and Viral reach will show how many people see the posts as a result of Fan interactions.
App Downloads
Get a target market to download and use your mobile app.
Track app downloads via social media.
App downloads and ad click-throughs will give the best sense of success.
Promote an Event
Drive awareness and/or registrations for a specific event.

Provide event info and content
Track registrations
Ask attendees if they've seen the event on social media

Registration numbers, reach for ads, and clicks to website all give a sense as to how many people learned about the event.
Build a Community
Create a place for people to interact with each other around your industry to generate word-of-mouth traffic.

Be active - answer questions and respond to comments
Tell offline customers about the community

Overall engagement, followed by organic and viral reach are all signs of a growing community.
Brick & Mortar Customers
Encourage existing and new customers to come into your location to purchase your goods.

Offer something compelling that will make customers act
Report back to your team with feedback/redemption results

Store sales and/or coupon/offer redemptions.
Referral Customers
Encourage existing customers to recommend your business to their networks.
Ask customers if they've seen the business on Social Media and tell their friends about your social media presence.
Viral reach and post shares are a sign that fans are sharing content with their friends.
Let us supercharge your social media presence. Call us @
877-472-4399
to get started.