Marketing: Introduction to LocalLift
How to Set Up LocalLift
Log in to your Hosting Dashboard.

Under Hosting Tools Section, look for LocalLift, then hit Launch.

Enter your local business information and click Scan Location.

LocalLift will perform a free scan to identify various listings throughout the internet that need attention.

Click Fix Listings.

Then, Apply Credit.
How to Access the LocalLift Dashboard
Log in to your Hosting Dashboard.

Under Hosting Tools Section, look for LocalLift, then hit Launch.

Click Dashboard.
Understanding the LocalLift Dashboard
| | |
| --- | --- |
| Location CMS | The Location CMS is where you fill out the information about your business. Add menus, a list of your products and services, a short biography of your key employees, and a short description of upcoming events. |
| Listings | The Listings Section is where you see your listings across the Internet. You can also see how your listings look across the PowerListings network and check their status. |
| Social | Your Listings subscription includes review monitoring and listing analytics, tools that can help you both address consumers' concerns and optimize your listings. Activate Review Monitoring and see the Reviews from all of your listings in one place. |
| Pages | The Pages section enables you to seamlessly integrate LocalLift's product lists, bios, and menus into your websites, blogs, and social media pages. Any changes you make are automatically updated across your sites. |
| Analytics | The Analytics section shows you how often your listings are being seen. Once your Listings go live, we'll start collecting statistics on how often they appear in search results and how often customers view your business details. We'll show you the data in the 'Analytics' section. |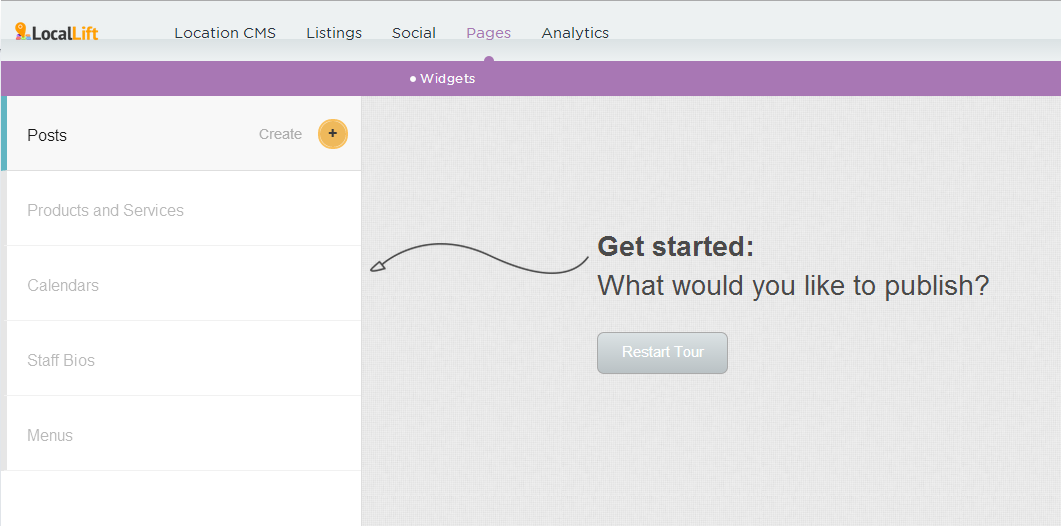 Mastering the LocalLift Dashboard
LocalLift has prepared a downloadable PDF document designed to help you get the most out of LocalLift. You will need Adobe Reader to view PDF documents.
LocalLift FAQ
Will LocalLift improve where I rank on Google
While LocalLift cannot guarantee placement, these listings will create SEO citations on numerous credible websites. Because LocalLift synchronizes the same data across these credible websites, it makes it easier for sites like Google to trust you and boost your ranking. Without LocalLift, these credible websites may have slightly different information which can affect how much Google and other sites trust you.
Could I manually work with each publisher for free instead of paying LocalLift to do it for me
You are welcome to try and work directly with publishers rather than have LocalLift do it for you. However, not every publisher will accept your listings, and some may even require payment. Additionally, publishers may require weeks or months before your listing goes live. Take advantage of LocalLift's contracts with these publishers in order to publish your listings faster and manage your listing quicker. You could even save money using LocalLift instead of paying each publisher individually.
Is it okay if I cancel my LocalLift subscription after a year
You can choose to cancel your subscription at any time, but doing so will remove LocalLift's lock. The lock ensures that LocalLift is in full control of your listing with its various publishers. Without this control, each listing becomes subject to its publisher's policies.
If I decide to cancel my LocalLift subscription, will I get a refund
You are eligible for a full refund if you request to cancel within the first 30 days of the initial purchase of LocalLift. Any refund requests received after 30 days are eligible for a pro-rated refund.
Why did everything revert after I canceled my LocalLift subscription
LocalLift's locks are removed once you cancel your subscription. LocalLift cannot guarantee that its benefits will continue after cancellation because each listing becomes subject to its publisher's policies. Any listings LocalLift had created for you may come down, listings it had claimed may revert to their previous state, and any listings it helped to suppress may reappear.
What will be happening to Simply Local Search
Customers who currently have Simply Local Search are welcome to keep it and may continue using it. However, we will not be offering Simply Local Search to new customers. We highly recommend that all customers make the switch from Simply Local Search to LocalLift. Please contact us for help in making the switch.