Instant Website: Introduction
What is Instant Website
Instant website is a quick, one-page informational website with a modern layout. No technical knowledge is required to set this up - just fill in the preset fields then click publish, and you'll have a professional-looking web presence in no time!
Instant Website is available for a small monthly price. To access Instant Website once it has been purchased for your account, Click Launch for Instant Website in your "Hosting Tools".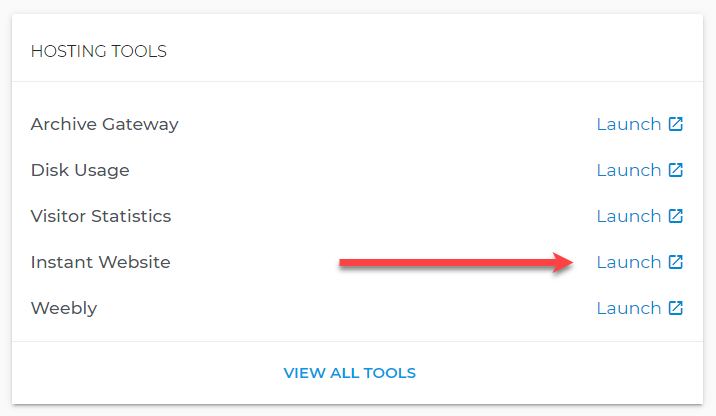 Publish a Page using Instant Website
To get started using Instant Website, click the icon in the 'Website' section of your control panel. This will bring you to the 'edit' section for the page.
At this top of the edit page, there is the section that controls the more administrative features, including where you can save a draft or publish your website.

Clicking the Settings button opens a popup where you can set the title of the webpage, as well as include any keywords to be used for improving your website's rank in a search engine (such as Google, Bing, or Yahoo).
Clicking the Help button opens a popup with some tips for creating and editing your website using Instant Website.
Clicking the Feedback button opens a popup that allows you to provide us with your feedback about the Instant Website service.
There are also six color choices below these three buttons that let you change the color of the website's background when it is viewed in a browser.
On the right side of the top section are four buttons:
Discard Changes removes any changes you've made since you've last saved a draft of your website. If no changes have been made yet, clicking this button will revert the page to its default state.
Save Website will save a draft of your website. Please note that you can only save one draft of the website at a time, and that clicking Save Website again will overwrite any previous drafts that you've saved.
Publish Website will publish your website to the internet. This process takes place within seconds, so your website will be live immediately after pressing this button.
Unpublish Website will remove your website from its active presence on the internet. However, it will not delete any of the content that you've created in the editing tool.
Edit a Page using Instant Website
Once you've accessed Instant Website from your control panel, by default you'll be shown a layout of customizable elements similar to the image below: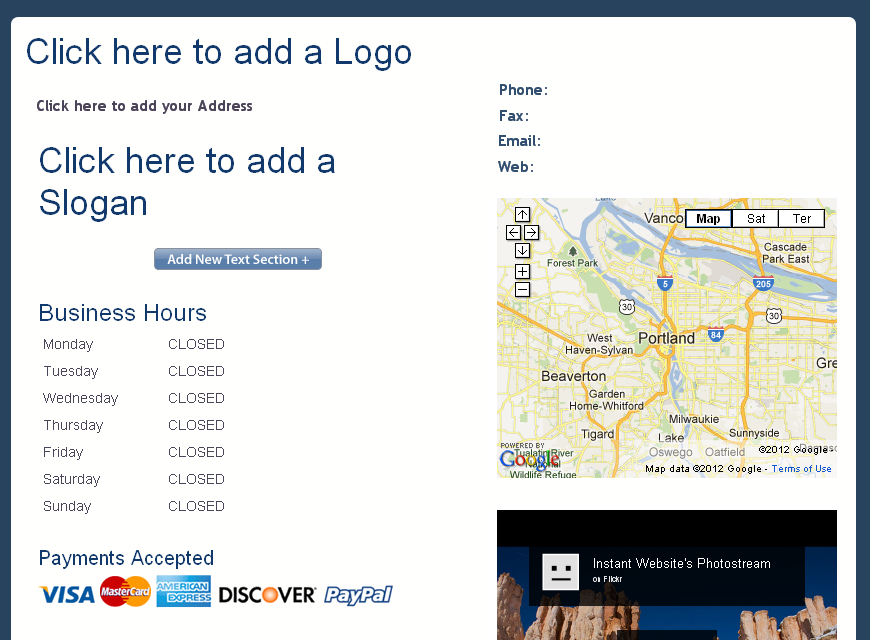 To edit any of these elements, move your mouse over the specific area (it will turn yellow), then click anywhere within the yellow box. Once you've finished your edits to that element, click Apply in the top right corner to save your content.
The elements that show by default cannot be removed, but they can be hidden. Please refer to the Creating or Hiding Elements in Instant Website knowledgebase article for more information on this.
Details on using some of the more popular elements in Instant Website are shown below.
Business Hours
This element allows you to select the hours of operation for your business. Once you click the element, a series of dropdown menus will appear that let you pick opening and closing times for each of the days of the week, as well as select your time zone.
Once you've selected your hours of operation, click Apply in the top right corner to save these changes for the Business Hours element.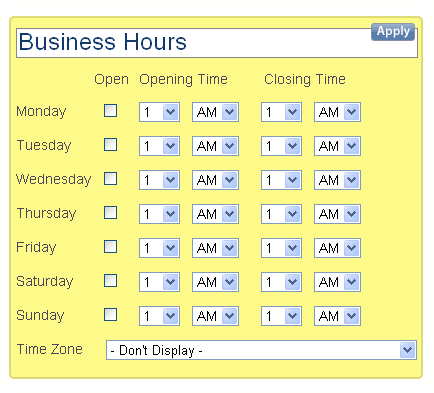 Payments Accepted
This element allows you to select the various payment methods that your business accepts. There are five options available be default, and select these will show their logo on your website. They are:
Visa
Mastercard
American Express
Discover
PayPal
There is also a 'Note:' text field in this element in the event that you want to add any additional messages.
Once you've selected the payment types accepted by your business, click Apply in the top right corner to save these changes for the Payments Accepted element.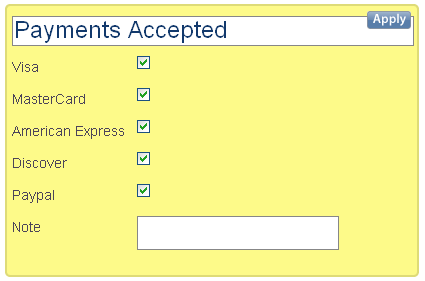 Create or Hide Elements in Instant Website
When using Instant Website, you are given a set number of default elements that appear, including Business Hours, Payments Accepted, a map of your location, and more. However, you may either add new elements or 'hide' existing elements with a click of a button.
To hide an element, move your mouse over an element (it will turn yellow). A new button, Hide, will also appear in the top right corner of the element.

Click this button to 'hide' an element from people accessing your website. Any changes that you've made to that element will still exist, but no one will be able to see them until you click the Show button to restore the element to active use.
To create a new custom element
, you have two options:
Add a New Text Section
, and
Add New Link
. By clicking either of these buttons in the Instant Website editing screen, a new custom element will appear that will allow you to enter custom text or a link to another website.
NOTE: If you want to remove a custom element created using either Add a New Text Section or Add New Link, you'll notice that there's an X button instead of a Hide button. Custom elements cannot be hidden, so please be careful of this fact before clicking the X button!