Domain Transfer: How To Transfer Your Domain To Another Company
Domain Transfer
If you want to transfer your domain to a different registrar, all of the following requirements must be met to complete the process.
Transfer requirements must all display green.
Your domain must be at least 60 days old or:
You have opted out of domain lock
Pro Tip
: Whether you keep your domain with us or go through with transferring it to another company, make sure you're protecting your personal info with
Domain Privacy + Protection
. It's the fast, easy, and affordable way to keep competitors, salespeople, and thieves from accessing your domain and personal information.
Important: If your domain has expired or is expiring within the next 10 days, please contact us for assistance. Attempting to transfer an expired or expiring domain can sometimes cause unexpected complications, and we want to ensure that your domain transfer occurs smoothly.
It is extremely important that you confirm your domain admin email address before proceeding.
You must be able to receive your Auth-Code to transfer your domain. You will use this code to confirm ownership with the new registrar.
Your domain contact information can be accessed on the left.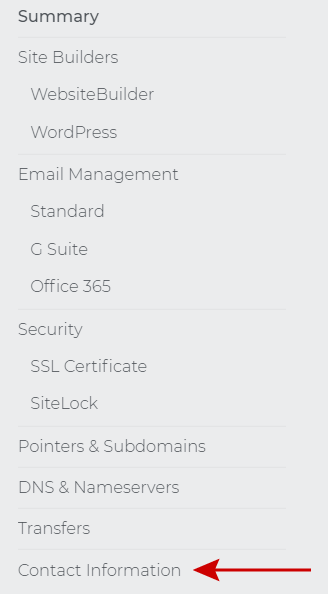 It is mandatory that you have access to the Administrative email address for a successful transfer. You can view and edit your email address to each tab individually or all at once, depending on which tab you have selected.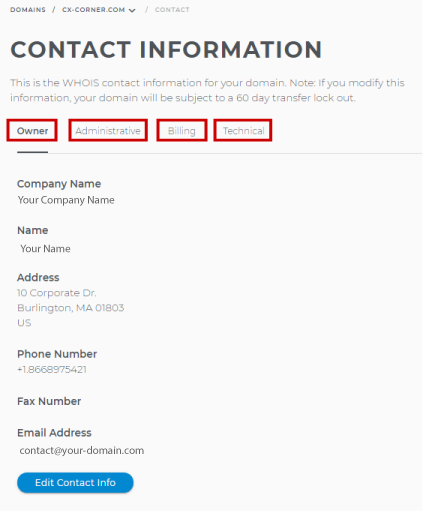 How to transfer your domain to another registrar
Log in to your Domain Dashboard.

Login to your account and click Manage on the domain you wish to transfer.
In Card view, click on the Manage button

In List view, click on the Gear icon

Click on Transfers in the left-hand menu.

Make sure that the Transfer Requirements are met, showing green. Again, please double-check your email address if it is correct before clicking the 'Email Auth-Code' button.

Note: For the visually impaired: If you see this message below the button, all requirements have not been met.

Click the Email Auth-Code button, you will see a brief confirmation message

Once Auth-Code has been received, you can start transferring your domain to your new registrar. You can put the Auth-Code to your new account with them or communicate with their Support Specialist.