Contact Email Addresses
Contact Addresses on File With Your Account
When you sign up for a hosting account, you will input an email address associated with the contact email address on file with your account. There are two types of email addresses that are typically required.
Account Contact Information
This is the primary contact information email for your hosting account. You may receive renewal notices, promotional messages, or notifications related to system outages. Click the down arrow next to your user name to access your Account Settings.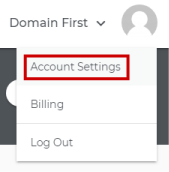 All of your account contact information is displayed on this page.
Account owner's name
Email address
Phone
EIN/Tax # (Important for those with eCommerce sites)
Mailing Address
Details about your hosting plan are displayed here also. To update your domain contact information, please click here.
Domain WHOIS Contact Information
Domain Owner Contact - actual account owner though the Administrative Contact is the most important domain-related information.
Administrative Contact - used for delivering important notices about the status of your account. These notices include service announcements and maintenance notices.
Billing Contact - used for delivering billing-related notices. These notices include receipts, past-due notifications, and other financial information.
Technical Contact - used for delivering notices detailing site statistics, domain status (expiration, upcoming renewals, etc.), and other application-specific information.

It is imperative to keep your domain ownership information up to date. If you wish to transfer your domain, you must have access to the Admin email address to respond to transfer requests from any registrars that are involved. Note especially the step regarding the ICANN Opt Out.


Related Articles:
How To Update Domain Contact Information
ICANN Verification and Authentication - Domain Management
What is WHOIS?