Contact Email Addresses
Contact Addresses on File With Your Account
When you sign up for a hosting account, you will input an email address associated with the contact email address on file with your account. There are two types of email addresses that are typically required.
Account Settings contact information
Domain contact information
Account Contact Information
This is the primary contact information email for your hosting account. You may receive renewal notices, promotional messages, or notifications related to system outages. Click the down arrow next to your user name to access your Account Settings.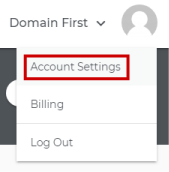 All of your account contact information is displayed on this page.
Account owner's name
Email address
Phone
EIN/Tax # (Important for those with eCommerce sites)
Mailing Address
Details about your hosting plan are displayed here also.
Domain WHOIS Contact Information
Domain Owner Contact - actual account owner though the Administrative Contact is the most important domain-related information.
Administrative Contact - used for delivering important notices about the status of your account. These notices include service announcements and maintenance notices.
Billing Contact - used for delivering billing-related notices. These notices include receipts, past-due notifications, and other financial information.
Technical Contact - used for delivering notices detailing site statistics, domain status (expiration, upcoming renewals, etc.), and other application-specific information.

It is imperative to keep your domain ownership information up to date. If you wish to transfer your domain, you must have access to the Admin email address to respond to transfer requests from any registrars that are involved. Note especially the step regarding the ICANN Opt Out. To edit your Domain Contact Information, follow the steps listed below.
How to edit your Domain contact information.
Log in to your Domains Dashboard.

There are two views in the Domains dashboard - the Card and List views. Click on the view icons to switch to your preferred view.

Choose the domain you wish to access.

In the

Card view

, click the domain's

Manage

button.

In List view, click the domain or its gear icon on the right-hand side.

At the bottom of the left sidebar, click on Contact Information.

You can revise your domain contact information by clicking on the tabs.

Click Edit Contact Info. Then the Edit box will popup.
Make your revisions. If you plan on transferring your domain soon, you will want to check the ICANN Lock Opt Out.

Click Save.

Note: If you are preparing to transfer your domain, make sure the Domain Lock is disabled, the switch is to the left and not green. A domain cannot be transferred as long as it is locked.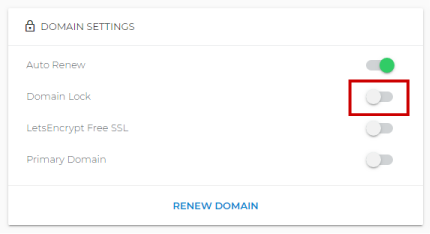 Change of Registrant - Update to Process
Effective December 1, 2016, ICANN modified the domain transfer process. All Registrars (accredited by ICANN) have to make necessary changes to their systems to help prevent domain hijacking. A Change of Registrant (CoR) email will now be sent to customers based on certain modifications made to the domain registrant information. Changes that will trigger this email:
Updating the first/last name or company name
Changing the registrant email address
Enabling/Disabling Privacy
Two emails will be sent out. One to the losing registrant and one to the gaining registrant (If the same email, both emails will be sent there). Both emails must be confirmed within 60 days for the changes to take effect. Once both are confirmed, change happens within 24 hours.
60 Day Lock
During the CoR Process, customers will have the option to 'opt-out' of a 60-day domain lock. By default, this option is not checked, meaning once the contact change is complete, the domain cannot be transferred for 60 days. Changes that will trigger this email:
Updating the first/last name or company name
Changing the registrant email address
Enabling/Disabling Privacy

Important: If you plan to transfer the domain, you will need to check the Opt-Out…box before saving changes. The domain will be locked for 60 days if this is not done and cannot be transferred.